Update on Our DPTC Water Project
I want to take the time to thank you for saying yes to God's calling to help us bring Clean Water to Camp Chemi Chemi.  This endeavor is nothing short of a miracle story.  We have been wanting to purify our water for over eight years and your faithfulness made this become a reality.
When we say yes to God, He allows us to see His Glory and His miracles.  This entire process has shown me how God takes the impossible and makes it possible to serve His purposes and timing.  As I said more than eight years ago we talked about what it would take to make our water clean. However, the cost was out of our league, but not God's.
Our story continues with the fact that 18 months ago Paul Njuguna, the Executive Director, urged me to find Robert Saunders in Atlanta as he had done a water purification project in Naivasha, Kenya, at Board Member George Shaaban's church. I laughed at the impossibility of finding a Robert Saunders in Atlanta as there are many and set it aside.  A year later Paul wrote me again and urged me.  Still I was at a loss.  Then, seven months ago Rev. Nancy Lane, our Associate Pastor, told me that she wanted me to connect with Diane Saunders at Powder Springs First United Methodist as they were doing work in Kenya.  I asked for her contact and inquired if she was married to Robert Saunders and did he do water purification work and if so could I have his contact.  I then contacted Robert and asked about what he was doing in Kenya and sure enough he was the one who did the water purification system in Naivasha at Trinity United Methodist where George Shaaban our board member was the pastor.
During our conversation, Robert told me he was leaving for Kenya in three days but his schedule was tight there and he did not know if he could go to visit our camp.  I shared with him our ministry and the need for clean water and pleaded with him to please just go and see what he thought. I told him how I been trying to find him for a long time. He was non-committal with he would see if time allowed. But God urged me to pursue him so Paul and I did relentlessly prior and during his stay in Kenya.  I texted him, emailed him and had Paul and George work to connect with him.  I know for a fact he was wondering who this crazy women bugging him was.
After Robert's return I got an email that stated  he had visited our camp two hours prior to leaving Kenya and God had placed on his heart that he needed to help us.  He asked for a meeting and Sally and I were right on it immediately.  We met with him and he told us the system would cost $41,000. To say our hearts sunk is an understatement.  The reason we had not pursued a water system had been money and lack of trusted expertise. Now this cost was $10,000 over the last quote in Kenya.  But Robert told us about Living Water International, his nonprofit, and that he would put up ½ of the money if we wished to go ahead.  He then wanted to know if we could do a trip the end of August over Labor Day to install and shared some approaches to solve our issues.  Then he dropped the bomb that he needed our ½ of the money by May, because the time frame was very tight to get the project done.
It was then I just said yes.  Yes, I would loan the money believing for the first time that God would not have brought us to the elusive Robert Saunders and have him pay for half of the project and install it soon, if it was not His plan.   Robert stumbled and asked me was I sure and I said yes with more peace than I have ever had.  I had an assurance that God would provide and bring us the funds. For me this was the beginning of watching God unfold his plan miraculously.
Robert continued to design the system and I began to share this amazing opportunity we had.  Robert asked for me to find team members for the trip to help him on the install alongside his crew.  So once again God began picking his team.  First, the Bible study men Garland Davis and Joe James stepped up.  Mickey Deaton, their coordinator, then held a meeting to discuss Divine Providence and we got our first check for $2,000 for the project.  Just $19,000 was needed now.  We held an interest meeting at the church and garnered three more team members Scott Straw, Sandra Gray and a new-to-missions' person Nancy Keil. At that meeting we met David Mueller who was very interested and I thought he would join us.  After the meeting, he shared no he was not going however he had been looking for a water project for three years and thought God had shut the door until he heard of our need.  He wanted to help us think about distribution of the water once we got the system up and he wanted to help us share our story with others.  He, unlike me, had no problem asking for money for God's projects.
Dave then was relentless with me in trying to set up meetings in Sunday School classes to share what we were doing and how the water project could help. Dave showed me that you can ask for funds for God's work boldly.  And from his efforts we then were able to raise more money. However by August, less than one month from leaving, we were still short of the funds. Our prayer team, led by Becky Bray, lifted this need to the Lord.  Becky also was bold in sharing our needs.  Two weeks prior to leaving we had all but $5,000 and I shared that with some people at church at a mission meeting.  They offered to look at some funds, but I amazingly felt God telling me to say no as He was going to bring us the funds.  No sooner had I left that meeting that I walked into my office and there was the final check for the exact amount we needed.  God had provided it all using those who are faithful.
Robert shared early on he wanted to ship the system. However, since Robert had never designed a system this fast, and there was not time or money to ship it due to cost overruns of $10,000, he then dropped the bomb on us it had to go in our suitcases dismantled so we best be recruiting very large suitcases. Another hurtle, but until we met at Powder Springs First United Methodist, we had no idea of the system's size. It was massive and enough to fill an 8 by 10 room fully and there were thousands of parts involved. To say we were amazed is an understatement. Becky and Sally began praying over the suitcases as we skillfully packed all the parts and Robert continued to dismantle them further to fit.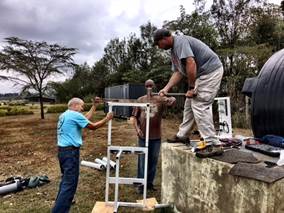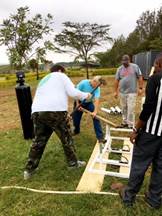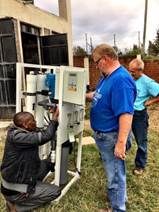 We would now be taking 30 suitcases and packages of 50 to 70 plus lbs. plus each among the 14 of us on three flights. We asked for prayers for this miracle. On the day of departure, we met at the airport only to have one agent ask if one of our packaged pumps was a missile. The agents stood in awe at the amount of luggage we had to take but God turned their hearts from" oh no" during our one hour and half check in, to let me see how we can help you and they saved us $700 in charges.
We landed in Kenya and Praise God all the suitcases were there with no damages or losses. Our next miracle had come to pass.  Then on to installation.  Our team consisted of Robert Saunders and his wife the Associate Pastor of Powder Springs First United Methodist. He added, his son Jake Saunders, a skilled electrician, Russell Wood and native Kenyan Rufus, both of whom had helped on the Naivasha install. God gifted us with Joe James and Garland Davis who both brought construction experience and Scott Straw who provided lots of technical expertise.  Additionally, we had Jason Scott, Sam Halverson and Mike Ratliff who were scouting out our camp for youth trips lend their aide and finally, Sandra Gray, Nancy Keil and I were the support team to unload, organize parts and be the gophers as needed. Paul Njugnua, Steve Matura, and our staff at Chemi Chemi joined in for manpower.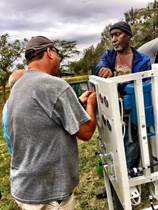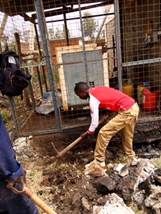 This manpower was seen in the amazing event of the lowering of a 10,000-gallon tank from the twenty-foot tower with rope pulleys only followed by raising another tank on top of the tower.  It went flawlessly with even our board Chair Francis calling the cadence and directions.  We were all amazed. But I am sure God just smiled.  He had picked His Dream Team and we worked cohesively and in His Spirit. Yes there were work arounds Robert had to do to adapt things on site.  Yes there were many trips into multiple hardware stores. But God was there.
Late on Friday, the miracle came to pass and we had clean water. Robert turned the tap on and it was hard to believe its freshness.  We looked at our dirty tank with algae and silt and now we saw fresh clean water.  There was a sense and aroma of God's presence with us.  As we stood that night and watched a golden full moon over Nairobi, we lifted our prayers and song to our God who allowed us to share in His plan.  We saw and felt His Glory.   Next we celebrated with some of our pastors who were overjoyed with the news.  Now they could come to the camp and not need bottled water and also they could have access for those who needed clean water.  The amount of singing, dancing and praising was a true celebration of what God had done.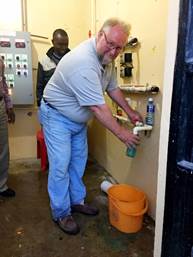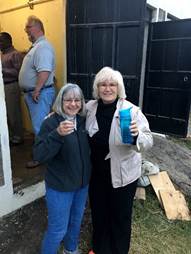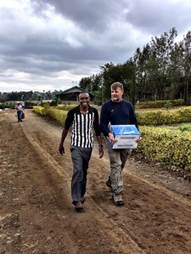 As I write, the Kenyan board is working on how to best distribute the water.  We know God will be with us in this endeavor as what He has begun, He will finish. Thank you for saying yes, for your prayers and support.  We will keep you updated as we develop a distribution plan and how God will use this gift to help educate more pastors to work the Harvest and build His Kingdom.
In His Service,
Beth Cayce